The Drama Queen's Doll Collection
|
home


Gifts

These are all dolls that have been gifts for my friends of family, and some that were made specifically for me. Please don't take them.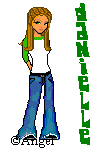 My official DCS members doll! I actually have a shirt that looks like that, 'cept the sleeves are darker. Only one I have that's transparent. Thanks SARAH!
This is my sister's roommate, Jill.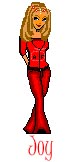 My sister's other roommate, Joy. This was my first request.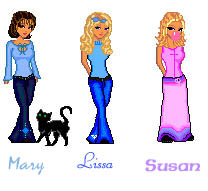 This is my sisters and I. I like "Mary's" hair in this one. Pretty kitty, too.
Another one of my sisters and I. *sings* Moses supposes his toeses are roses, but Moses supposes erroneously, for Moses he knowses his toeses aren't roses as Moses supposes his toeses to be! *stops singing* Whew!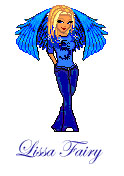 My oldest sister, Lissa. Nice wings, huh?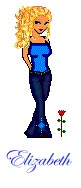 Elizabeth, AKA Lissa, again. She likes roses, that's why I added the rose.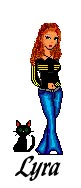 My friend, Lyra. This was basically a thank you for all the help she's given me with my RPG.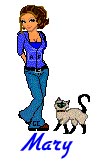 My other sister, "Mary". If you hadn't guessed she likes cats. *sarcastic* No, I don't like them at all.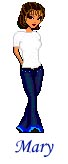 Another one of "Mary". Pretty hair!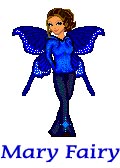 "Mary" as a fairy. Actually, she looks more like a butterfly. :-) Butterflies are good. :-P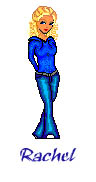 This is my best friend Rachel.
Rachel with her kitty, Panther.
Rachel as a fairy!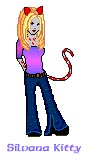 One of two dolls of my 'CATS' character, Silvana. Meow!

The other one of Silvana. I like the first one better, it's closer to what she actually looks like.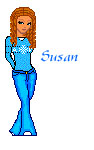 It's me! That's pretty close to what my hair looks like after I've had it in pigtail braids after a shower. *giggles*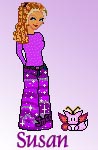 This is how I usually have my hair. It's too darn thick to wear down all the time!

My sister and I are drama queens. If I find a blue drama mask somewhere I'll make one of "Mary". Drama's fun!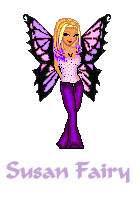 Me as a fairy! Can you figure out what my fave color is?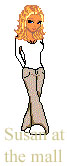 I wore this to the mall one day and decided to make a doll.

I WANT THAT SHIRT!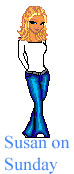 I wore this one Sunday when I didn't go to church. BAD ME!

A new one that I made today, this one of my sister, "Mary". One of three that I actually saved. There's not enough room on my hard drive for all the ones I make everyday. *sheepish grin* Pretty hair! Pretty hair!

Oh boy! Number two! (any 'Crazy For You' fan would know that quote ;-) This is the second one of the three, my eldest sister, Lissa. I know the quote!
Heh, just noticed that Lissa and I are both wearing sweaters around our waists. *shrugs* Oh well. Last one of the three.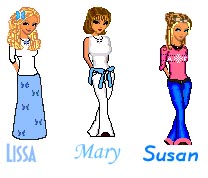 'Nother one of my sisters and I. Did some editing of my own on this one. Couldn't find a top that I liked to go with Lissa's skirt so I just took one of the other shirts and edited it in Photoshop. Turned out pretty good I think. I also added the pink on the bottom of my jeans. Pretty hair all around!

My sisters and I as flower fairies. *scratches head* My flowers look more like stars. Superstar!

"Mary" with her own drama mask! I had to edit the mask a bit 'cause I couldn't find one with blue on it. I like those pants and the mask.

Here's the new one of "Mary"! I think you might have guessed what her fave color is by now. ;) No, I don't think they have.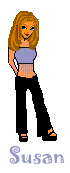 Made this one at the old Roxy Doll generator. I also made more of my sisters.

It's a punker Elizabeth *roflh* This is one of Lissa's fave dolls.

*giggles* I know this looks like my formal wear Lynnette, but "Mary" is a rather modest person (Yes, I am!), so I knew which dress to choose for Lynnette, who is based off my sister. "Mary" helped me with this one, Thanks SIS! You're welcome!

'Nother one of my sisters and I. Lissa is the one with the lighter blonde hair. Naw, I would've thought she's the brunette! :-P

My old friend, Jessica, from middle school. Hmm, I think I might hafta stay away from names on my transparent ones.

It's beach Lissa!

It's beach Mary! The hat was white, dunno why its lavender. It's the background. Stoopid Trellix. You're right. I'll have to go through PSP to fix it.

It's me at the beach! Wish I had a bod like that so I could wear that suit. Don't we all. (At least the females)

There was s'posed to be a high collar on the sweater but the neck covered it up. Oh well. I like the way it looks now.
FIRE!!!!!!!!!!!!! Fire! Where!?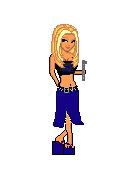 Hmm, gonna have to squeeze this one down. I requested this one from Dollz 4 You.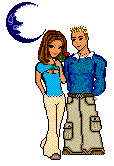 My brother's friend Connie and her boyfriend, Justin.
It's another Rachel! Figured I hadn't done her in a while so...

I like those pants, wish I could find a pair like this at the Mall.

It's Connie in a strawberry outfit! Strawberries, mmm.

A pair that I made for Lissa and her boyfriend.
That's all folks! I might have more later.